Super Alkaline Soup is a combination of some of the best, most nutritious and delicious vegetables that are high on the alkaline chart. My Super Alkaline Salad is my all time most popular recipe, and this fact tells me that a lot of people are very interested in keeping their diet balanced between acid and alkaline, and are looking for delicious recipes.
I decided to make a soup with several ingredients on the list of most alkaline foods, and add a super healthy garnish. After reviewing my list of most alkaline foods, I came up with this hot, delicious comfort food.
Whether you are a fan of the alkaline/acid diet theory or not, one must agree that eating these alkaline foods will be good for your health. After eating this soup, you too, will be a believer! There are so many alkaline foods that I use to make my super alkaline recipes, but love this flavor and nutrition combination.
For this soup, I chose:
baby broccoli*
carrots
butternut squash
bok choy
onions
red pepper
kale and spinach greens*
garlic.
* are on the list of Top 10 Most Alkaline Foods
Why Do I Want To Eat High Alkaline Foods?
Blood tests are used as a basic diagnostic test to measure overall health. One of the levels that can be measured in our blood, is PH level. PH level essentially tells us how acidic our blood is. This level is an indicator of health status--high acid equates to potential health risks, and high alkaline is considered healthier. In addition to ph levels, I just feel so much better when I eat high alkaline, colorful foods. I don't need a test to know that.
If you are new to studying the concept of an alkaline diet, and want to test yourself, you can find strips for that here. It is helpful to know where you stand, and if any changes that you have made in your diet have impacted your results.

What Foods Are High Alkaline?
This is a list of high and medium alkaline foods that you can use to plan your meals. You can create awesome soups, salads, smoothies and bowls with a combination of these foods.
I don't think that any eating plan should be too rigid, so no food is prohibited. If you are trying to increase your intake of alkaline foods, you should minimize acid foods which include alcohol, meat, dairy, coffee, cheese and eggs. But, eggs are my favorite comfort food, so I eat them when I want to.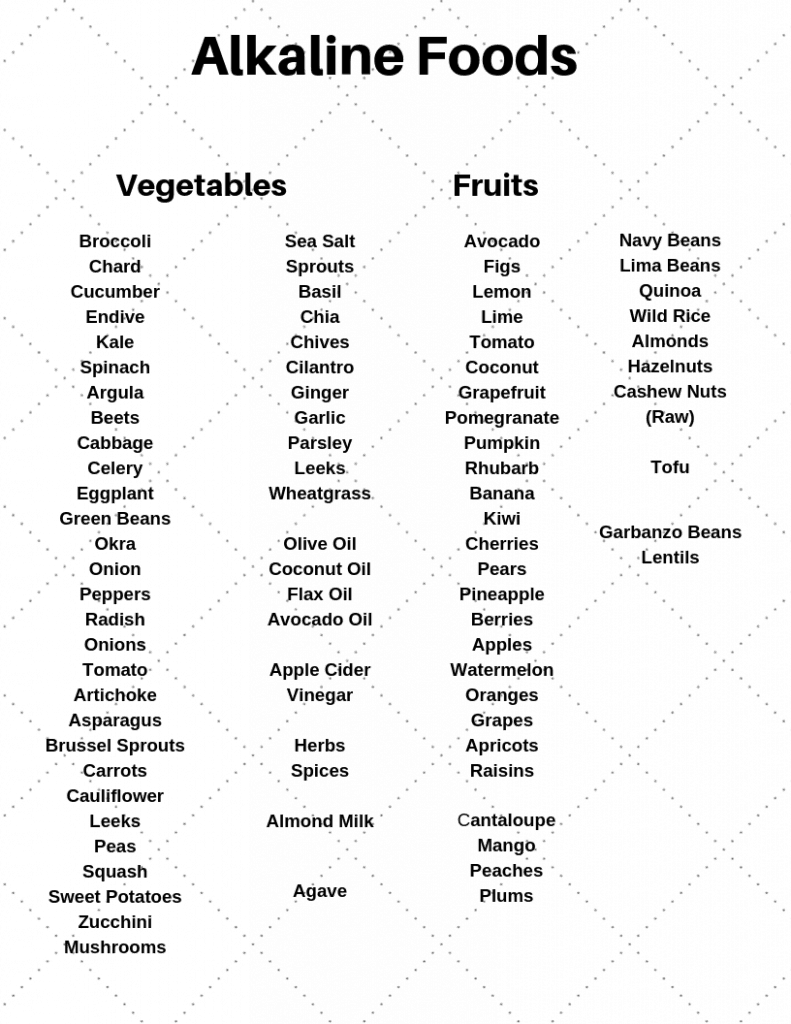 Steps To Make Super Alkaline Soup
Prepare vegetables for soup. I like my soup chunky, so I don't chop my vegetables too small.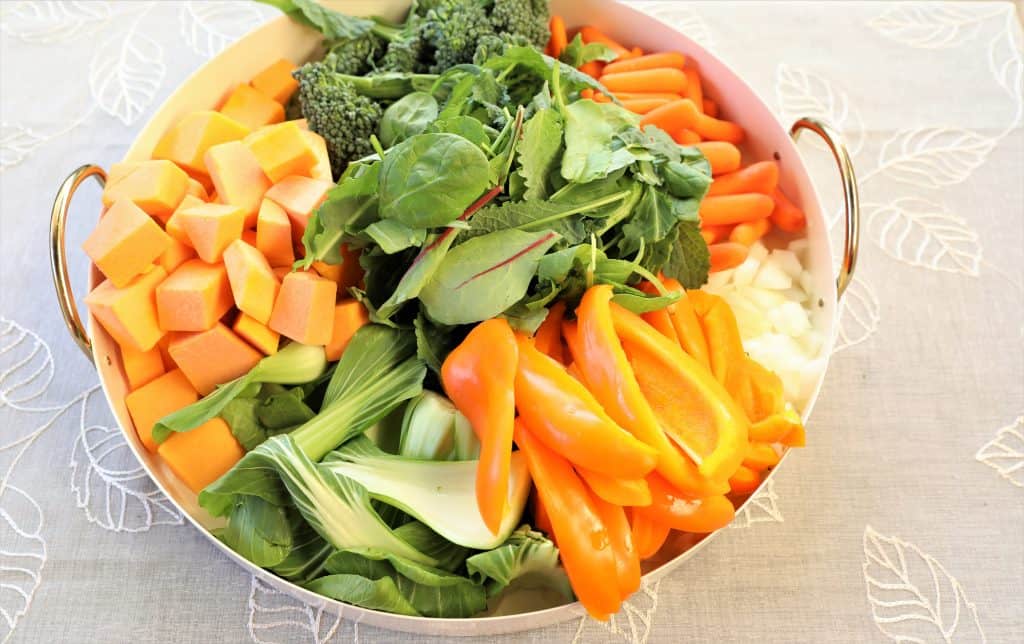 Add all vegetables to the inner pot of the Instant Pot (or soup pot).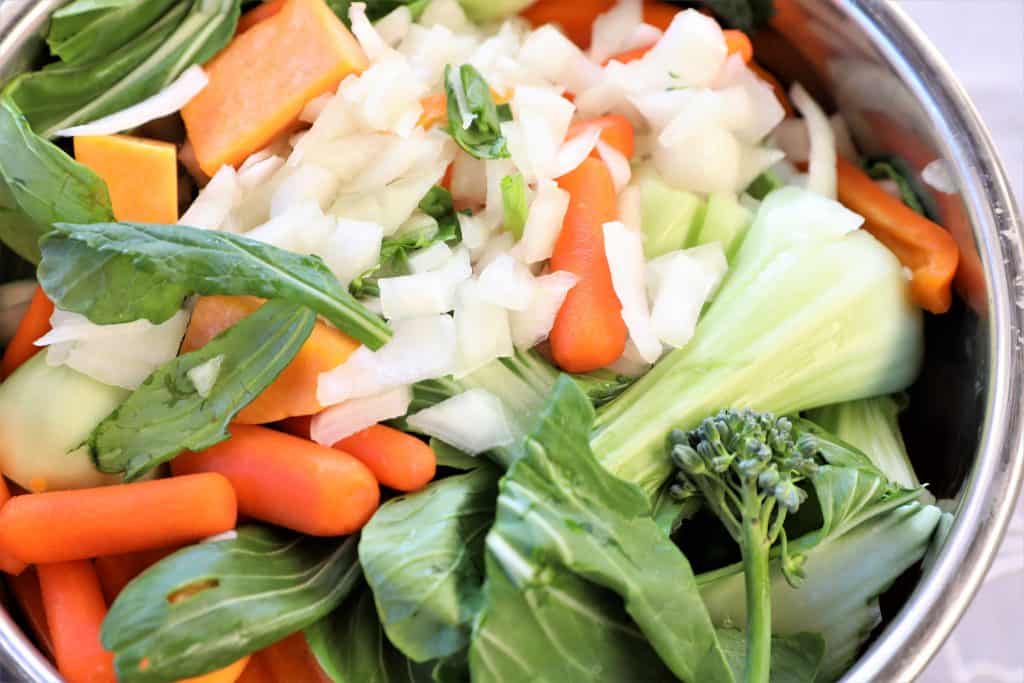 Add vegetable broth to the vegetables, making sure not to fill beyond the max fill line.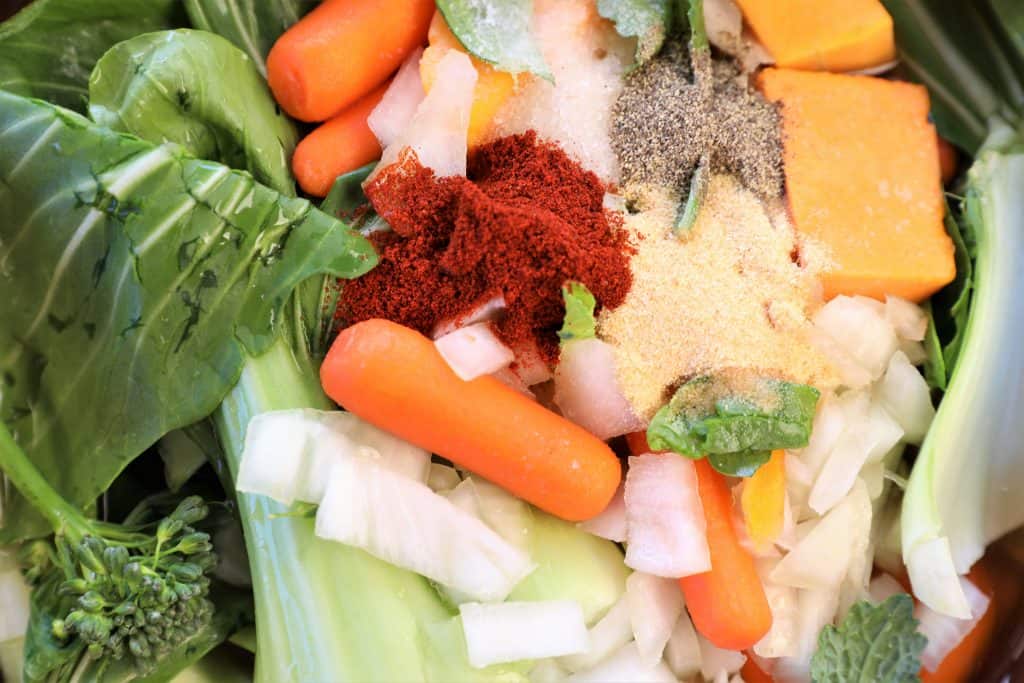 Add spices and lemon juice.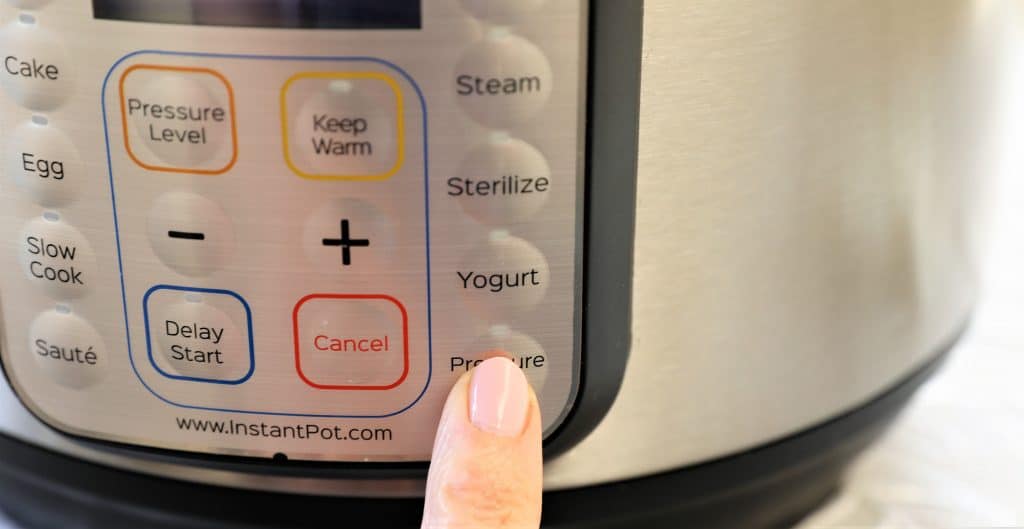 Set the Instant Pot for 8 minutes on pressure cook setting and NR, naturally release pressure for 10 minutes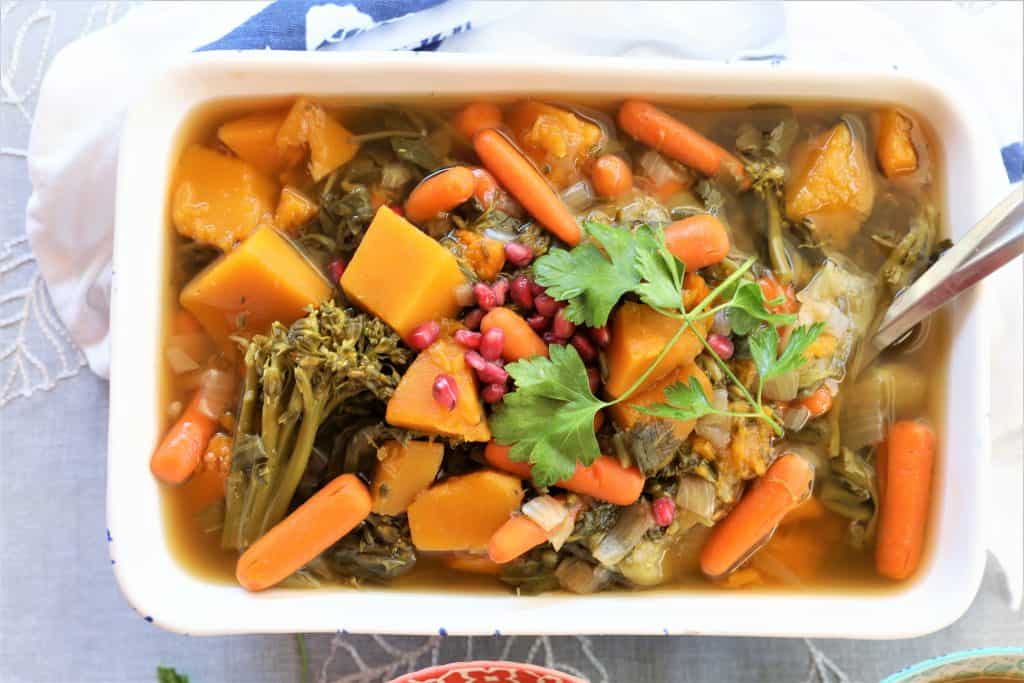 After soup is done, and pressure released, transfer soup to a large soup bowl.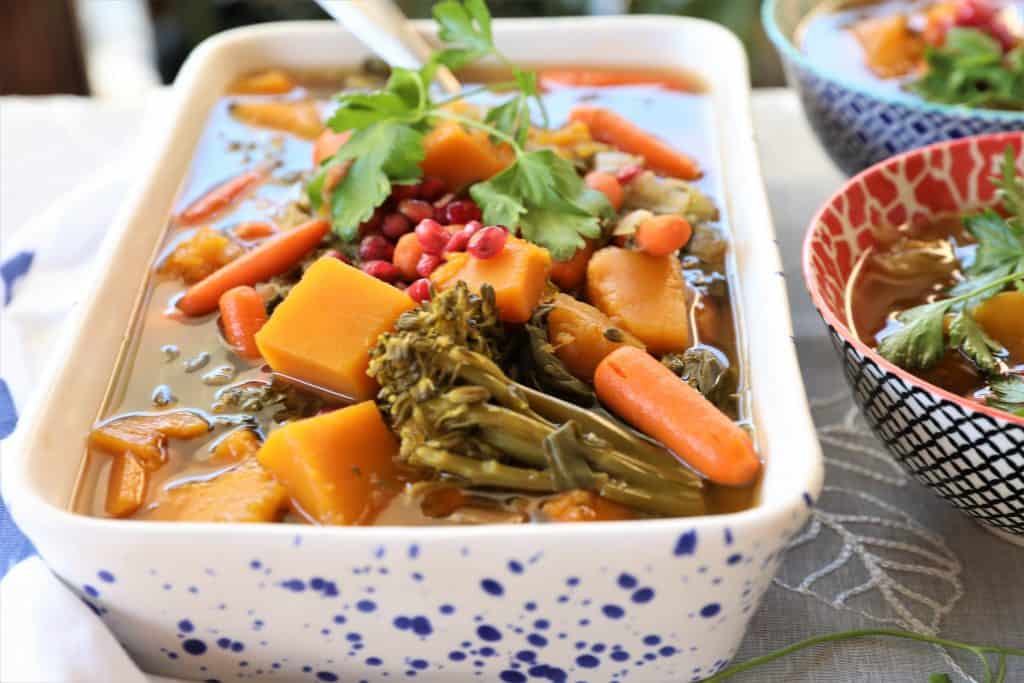 Add fresh parsley and pomegranate seeds to the top of the soup.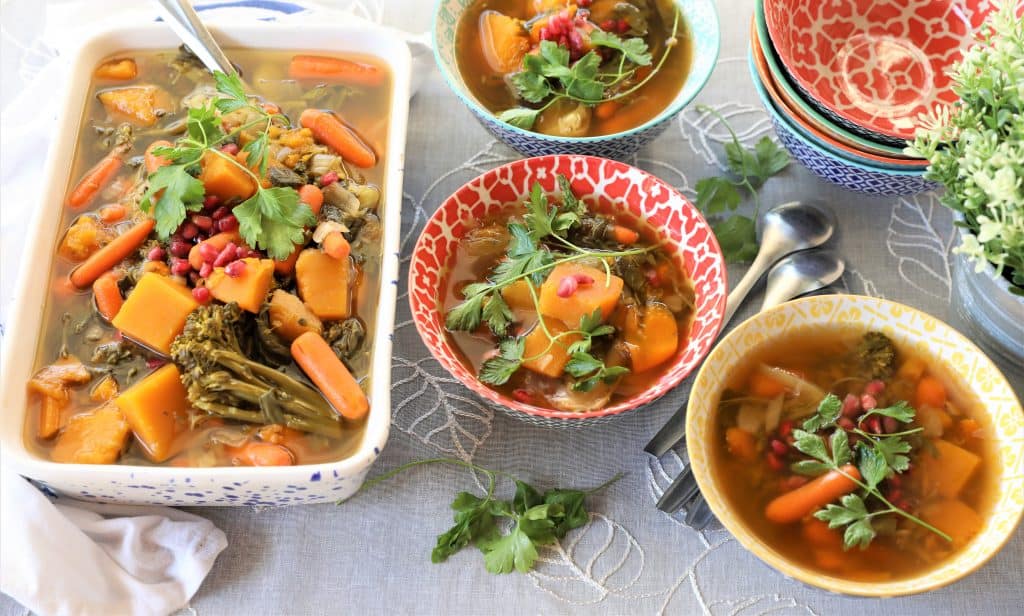 When serving your soup, garnish with fresh parsley which is known for its detoxifying effects on your body and pomegranate seeds, which give a delightful tart flavor to the soup.
What Are The Benefits of Alkaline Foods?
I chose these specific vegetables and spices for this Super Alkaline Soup because they all offer high fiber, vitamins, minerals, healthy omega 3 fatty acids, anti-oxidants and protein. Health benefits of eating a diet with greens and colorful foods include reducing the risk of cancer, cardiovascular disease, diabetes, reducing high blood pressure, cholesterol, and inflammation. Each ingredient offers unique health benefits.
Super Alkaline Soup
Delicious, nutritious high alkaline vegetables make for a yummy, comfort soup. Toss them into the Instant Pot, and you will have a nutritious, cleansing soup that will help keep your body balanced.

Ingredients
3

stalks

bok choy

2

cups

baby carrots, peeled

4

cups

mixed greens, kale, spinach, collard greens

1

onion, chopped

4

cloves

garlic, minced

2

cups

baby broccoli

2

cups

butternut squash, chopped into cubes

2

red or orange peppers, chopped

1

tablespoon

smoked paprika

1

teaspoon

tumeric

2

teaspoon

sea salt

1

tablespoon

granulated garlic

1

teaspoon

black pepper

1

juice of 1 lemon

64

oz

organic vegetable broth

2

tablespoon

fresh parsley for garnish

2

tablespoon

pomegranate seeds
Instructions
Add all prepared vegetables to Instant Pot.* (Stove top instructions below.) I like my vegetable soup chunky, so my vegetables are not chopped small. If you prefer, you can chop your vegetables.


Add spices and lemon juice. Add vegetable broth, making sure that your liquid does not go over the maximum line in the inner pot.


Set Instant Pot for 8 minutes to pressure cook. After cooking is complete, let pressure release naturally NR for 10 minutes. Release pressure and remove lid when valve goes down.

Transfer soup to large serving bowl and dish out into individual serving bowls. Garnish with parsley and pomegranate seeds.

Notes
Stove Top: Add all ingredients, vegetables, spices, lemon juice and vegetable broth to large soup pot. Bring to boil, and reduce to simmer. Allow soup to simmer for 2 hours.
Nutrition
Serving:
12
oz
Calories:
216
kcal
If you are trying to add more alkaline recipes to your diet, you can create many recipes with the ingredients listed on the chart above.
I have had this blog for over 3 years, and many of my recipes are vegan, vegetarian, gluten free and dairy free. Most importantly, they contain many of the healthy alkaline foods listed above.
If you don't have time to create your own recipes, no worries. I have prepared a list of what I think are the 28 Best Alkaline Recipes. Check them out and pick your favorite!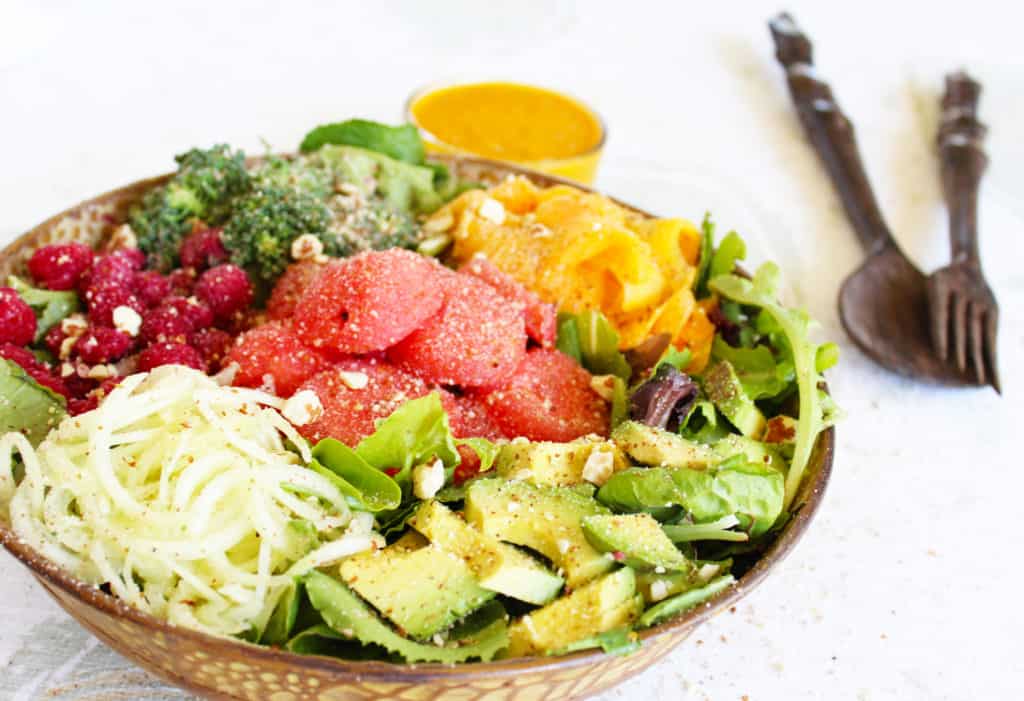 This recipe was updated on October 3, 2019.