Broccoli Mushroom Tetrazzini.  Fall is coming, and we need quick and easy dinners that are also healthy and delicious.  Broccoli Mushroom Tetrazzini is that, ready in 40 minutes, delightfully satisfying, tasty and healthy.  For the pasta, I used Trader Joe's Red Organic Lentil Sedanini (not sponsored), although you can use any gluten free pasta that you have on hand.  The lentil pasta is a refreshing change from the standard flour pastas that I typically use-- it actually tasted like lentils, had more protein and fiber than traditional pasta, and was yummy.  This dish is vegan, gluten free and dairy free, of course.
Broccoli Mushroom Tetrazzini
Broccoli Mushroom Tetrazzini is creamy and delicious. Vegan, gluten free and dairy free.
Ingredients
3

cups

of fresh broccoli

cooked 4 minutes in microwave (if using frozen, drain liquid after cooking)

2

cups

fresh mushrooms

sliced

1

leek

sliced

3

cups

almond or other nut milk

3 ½

tablespoon

gluten free flour

2

tablespoon

olive oil

1

teaspoon

sea salt

1

tablespoon

granulated garlic

1

teaspoon

black pepper

12

oz

gluten free pasta

I used Trader Joe's Lentil Pasta

1

tablespoon

tarragon

¼

cup

vegan parmesan cheese
Vegan Parmesan
Mix in high speed blender:

⅓

cup

brazil nuts

⅓

cup

raw cashews

⅓

cup

almonds

¼

cup

nutritional yeast

½

teaspoon

sea salt

1

teaspoon

granulated garlic
Instructions
Cook broccoli in microwave for 4 minutes

Cook pasta according to package directions, drain and rinse in cold water

Stir fry mushrooms and leeks in olive oil for 4 minutes in pan

Remove mushrooms and leeks from pan.
Create sauce in pan that you just removed leaks and mushrooms from:
Add almond milk, salt, pepper, granulated garlic and tarragon to pan.

Bring to a boil and reduce heat

Scoop ½ cup of boiled milk and place in separate cup to create white sauce

Mix almond flour into cup of milk and stir until lumps are gone.

Return flour mixture to remaining milk in pan. Cook on medium for a few minutes until it thickens, stirring constantly.

Add drained pasta, broccoli, mushrooms and leeks to pan with sauce

Stir until all ingredients are mixed.

Top with vegan parmesan cheese for serving.
Notes
*There are many recipes for Vegan Parmesan on the internet. I don't claim that this is an original creation--these are just the ingredients that I use

.
Nutrition
Serving:
1
g
Calories:
316
kcal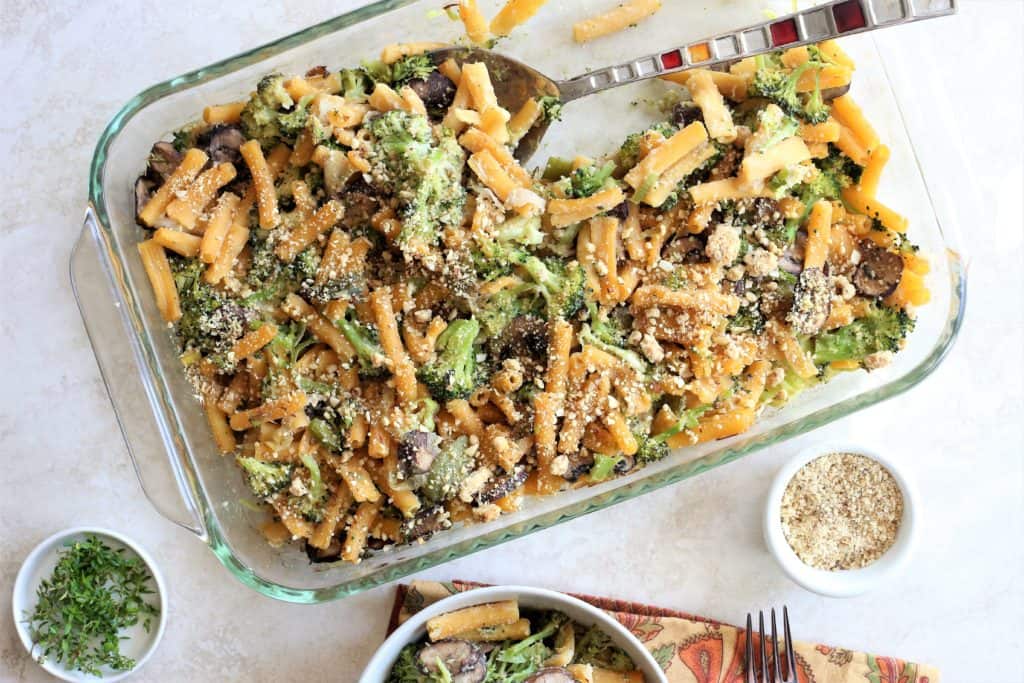 More recipes like Broccoli Mushroom Tetrazzini that you might enjoy:
Basil Pesto Pasta With Sun Dried Tomatoes and Asparagus
Raw Basil Pistachio Pesto Zucchini Lasagna
Thai Vegetable and Noodle Stir-fry
Quinoa Potato Corn Scramble With Grilled Pepper Chile Sauce
For more photos, see Instagram.