Beyond Sausage Sandwich.  Approximately 99% of the recipes that I have on this blog are vegetarian, vegan or dairy free.  In consideration of that fact, I definitely was super interested in the latest wave of plant based meat products because for some recipes, I like to have a meat substitute.
If you have eaten a meat diet, there is something to the composition and texture of meat that gives the dish substance.  It is like you need something weighty to bite into.  For many soups, stews and tacos, I have created recipes with jackfruit, which accomplishes that goal somewhat.  Personally, I don't eat red meat, rarely eat chicken or pork, eat salmon and eggs, but I like to have plant based protein alternatives.
I wanted to try the latest meatless products for myself--to hear what all the press is about, and to see if these products are viable substitutes for meat.  I have 3 reasons for seeking a meat substitute:
1) health 2) environment 3)animal rights
Nutrition Information
As you can see by the package, the manufacturers of Beyond Sausage advise that the product is soy and gluten free, contains 16 grams of protein and 190 calories per sausage and is 38% lower in fat than pork sausage.  This is definitely an improvement, but can you substitute it for sausage and still feel fulfilled.
Are Beyond Meat Products Healthier Than Meat?
According to the American Heart Association, there isn't much good news about meat.  Meat diets increase your  risk of developing heart disease and red meat is tied to some of our "most prevalent chronic diseases" like type 2 diabetes.  Processed meats like sausage, bacon, and hot dogs could also increase the risk of stomach and bowel cancers.
In researching this article, it is almost humorous how experts approach suggesting to consumers that they can start with one meatless meal a week---like it will be such a struggle that one should only try it slowly.  Yes, that is hilarious, considering that 375 million people across the world are vegetarian..it won't kill you.
But, I digress.
The reality is that  160 million Americans are overweight or obese, so it is obvious that we are not willing to sacrifice very much in order to be healthy.  If there is a meatless alternative that might be healthier, it better be good.  Like, we better not have to sacrifice taste, flavor or the pure enjoyment of eating,  just to be healthy.
Many companies have undertaken the challenge of developing a healthy alternative to meat that will satisfy even the most committed meat eater, in part because of other considerations like the environment and animals.  The jury is still out on how much healthier meatless products are than meat, but nutritionists do report that meatless meat is healthier than meat, despite being processed.  Even if the fat and calories are the same, the other benefits to the environment and animals are significant.
How Do Meatless Products Help The Environment?
Experts agree that red meat production plays a role in the climate crisis, and this has been referred to as the real "major public health risk." The World Resources Institute estimates that cutting the world's beef consumption by 70% could reduce greenhouse-gas emissions by around 35%.
As a result of  factory farming and the side effects of satisfying the American appetite for beef, the greenhouse gas emissions from livestock make up an estimated 14.5 percent of all global greenhouse gas emissions, according to the United Nations Food and Agriculture Organization.
Animal Rights
I don't consider myself an avid animal rights advocate, but I too have seen the videos of meat processing plants, chicken farms and packing houses.  They range from gross to horrific, so basically,  if we can avoid killing animals, I think that would be a great thing.  In my opinion, as far as assessing advantages for meatless products, letting animals live the life they were born to live (which doesn't include being my dinner) counts for something.
You know who will get this?  Kids.  Kids are concerned about the environment and animals, so in that sense...the children are the future.
Recipes Using Beyond Meat
I am going to prepare several traditional recipes that include meat, and substitute Beyond Meat Products.  I have chosen Beyond Meat because their protein source is pea protein isolate (and not soy) and that it is gluten free.  My first recipe is Beyond Sausage Sandwich.
What Are The Ingredients In Beyond Sausage Sandwich?
If you think about a sandwich or burger, rarely are they enjoyed without some condiment, sauce or other added enhancement, like cheese.  For this recipe, this sandwich has the Beyond Sausage, grilled red peppers, greens and grilled garlic aioli on toasted ciabatta bread.  Pretty simple sandwich and for each sandwich you will need:
4 Beyond Sausages
1 cup mixed greens
1 grilled red pepper
4 ciabatta rolls, sliced
Fresh basil
Grilled Garlic Aioli
12 cloves of garlic, grilled
½ cup raw cashews
2 tablespoon lemon juice
½ teaspoon sea salt; pinch of black pepper
½ cup water
Steps For Beyond Sausage Sandwich
It is November 2019 and in Southern California today, it is 80 degrees.  For that reason, I was able to prepare this sandwich outside, on the grill, and pretend that it is June.  For those of you who don't have that option, the Beyond Sausage instructions include baking, pan frying or toaster oven. (Check out my review of the grill that I used, the George Foreman Grill.)
 Brush the grill with olive oil.
Place the sausages on the grill, on medium high heat for approximately 8-10 minutes.
Add the red pepper to the grill.
Turn the sausages periodically, so that it is grilled on all sides.
Add the garlic to the grill, flipping frequently so that they don't burn.
When the sausages, peppers and garlic are nearly done, toast the ciabatta buns on the grill for 1 minute on each side.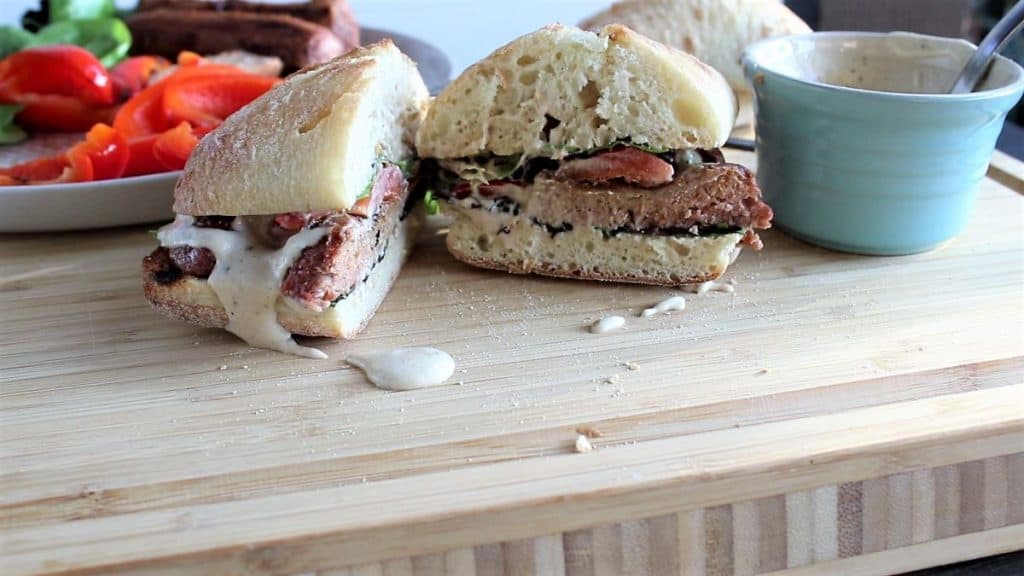 Tips For Beyond Sausage Sandwich
I noticed that the label on the product had a "use by" date, so I would suggest treating this product as perishable, just like you would meat.
I made this sandwich with basics--greens, red pepper and garlic aioli.  The possibilities for this sausage are endless--feel free to experiment with other condiments, vegetables, sauces or cheeses.
I tried the sausage plain to see what the actual flavor was.  Because it was sausage, I was somehow expecting it to be spicy, but it wasn't.  It was somewhat bland,  resembled a veggie sausage, but with more of a meat texture.  Since it was grilled, it had a little crisp on the outside as well.   I probably would not eat these sausages plain though because who does that anyway.  I look forward to trying them with other options like I would meat sausage, hot dogs or hamburgers.  In my opinion,  this product  is perfect in dishes that I feel need a meat replacement because it actually has protein and nutritional value.
In the end, I felt like it was an excellent sandwich, and a tiny win for the environment and the animal who might have been that sausage.
Beyond Sausage Sandwich
Beyond Sausage Sandwich is the perfect vegan alternative for your meatless Monday.
Ingredients
4

Beyond Sausages

4

ciabatta rolls

1

red pepper

1

cup

mixed greens

2

tablespoon

fresh basil

1

teaspoon

olive oil for grill
Grilled Garlic Aioli
12

cloves garlic

½

teaspoon

sea salt

½

cup

water

1

lemon, juice of 1 lemon

dash

black pepper

½

cup

raw cashews
Instructions
Brush olive oil on grill. Add sausage, red pepper on medium high for 8-10 minutes. Turn frequently to be sure that they are grilled on all sides. Add garlic and toss frequently. Toast ciabatta for 1 minute on each side

Remove from grill; assemble sandwich in this order: Add garlic aioli, greens, sausage, cut in half, red pepper, garlic aioli and fresh basil.
Grilled Garlic Aioli
Blend all ingredients in high speed blender until smooth.
Nutrition
Serving:
1
sandwich
Calories:
352
kcal