Red Curry Cauliflower Rice Vegetable Soup-Instant Pot.  I had vegetables left in the refrigerator, and wanted to use them to make something very delicious.  I started with minced cauliflower (aka cauliflower rice), mushrooms, zucchini, onion, cherry tomatoes and mixed greens (with kale, spinach and collard greens.)  My original intention was to make a stir fry, and use Thai Red Curry Sauce to spice it up with yummy flavor.  I also am trying to create as many recipes as possible in the Instant Pot, because everyone needs good food, right now.  The Instant Pot lets you make great recipes in a hurry, which is perfect for your hungry crowd when you are pressed for time.  This dish is vegan, gluten free and dairy free.
When I put all the vegetables into the Instant Pot, it still looked like stirfry.  But, due to the pressure cooking process, the moisture from the vegetables and the steam, created a thick and spicy soup, that was incredibly delicious.  It required only 8 ingredients, took less than 20 minutes, and tasted like homemade soup that has been simmering all day with a yummy kick from the red curry sauce.  This is truly, one pot cooking.
How Does The Instant Pot Pressure Cook Food?
The Instant Pot actually has 9 different functions, including pressure cooker, slow cooker, yogurt cooker, saute setting, egg cooker, steamer, sterilizer, rice cooker, and cake baking.  Check out my review of the Instant Pot, where I discuss several of those functions, and share recipes that I have made with the Instant Pot.  Here, we made this soup with the pressure cooking, so we will talk about that function.
When you turn the pressure cooker on, and secure the lid, the pot will begin to build pressure and steam.  The valve must be in the sealed position, which on my pressure cooker, is up, or to the right.  As the steam and pressure build, the temperature begins to rise, and can reach a temperature over 265 degrees.  The combination of this heat, pressure and steam, cooks the food much more quickly than standard cooking methods.
This method allows the food to cook evenly, deepens and enhances the flavor, and maintains the vitamins and minerals.  Since you don't need to add excessive water, the flavors are true and not diluted.  This principle is definitely applicable with this soup--the fresh vegetables keep their flavor, are not mushy, and are still full of nutritional benefits.
For the most frequently asked questions about the Instant Pot, check out the manufacturer's answers, here.
Steps For Making Red Curry Cauliflower Rice Vegetable Soup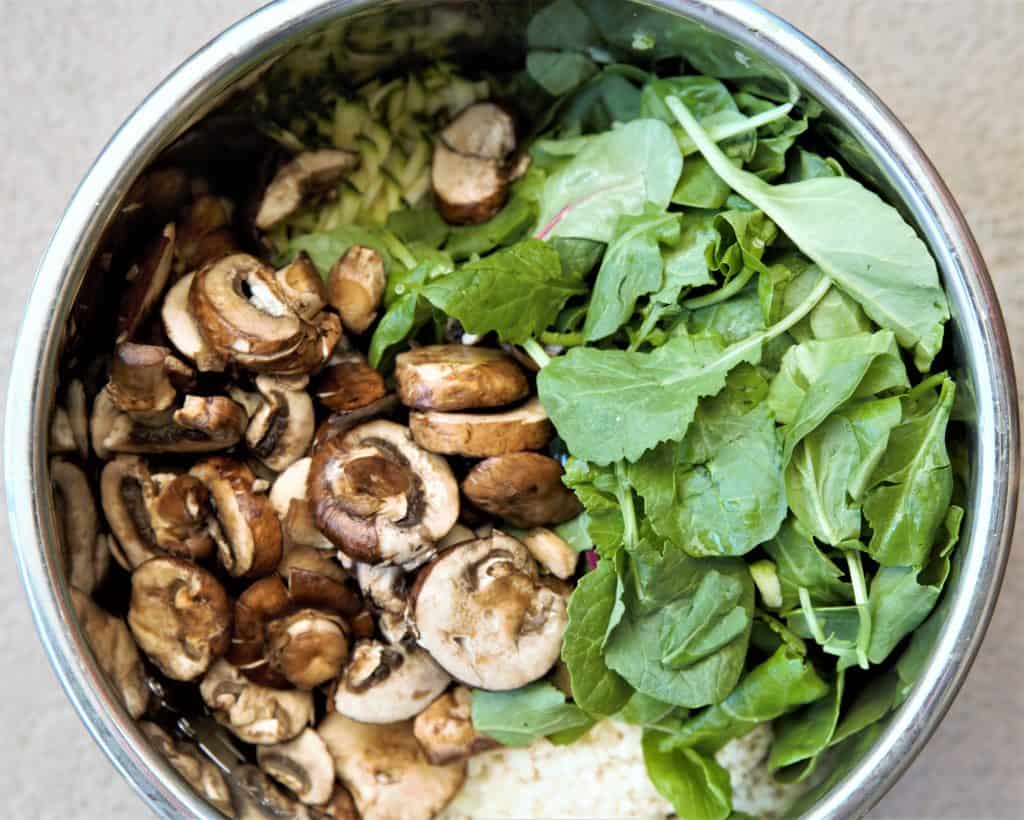 Add olive oil to bottom of pot, add vegetable broth and place vegetables in inner pot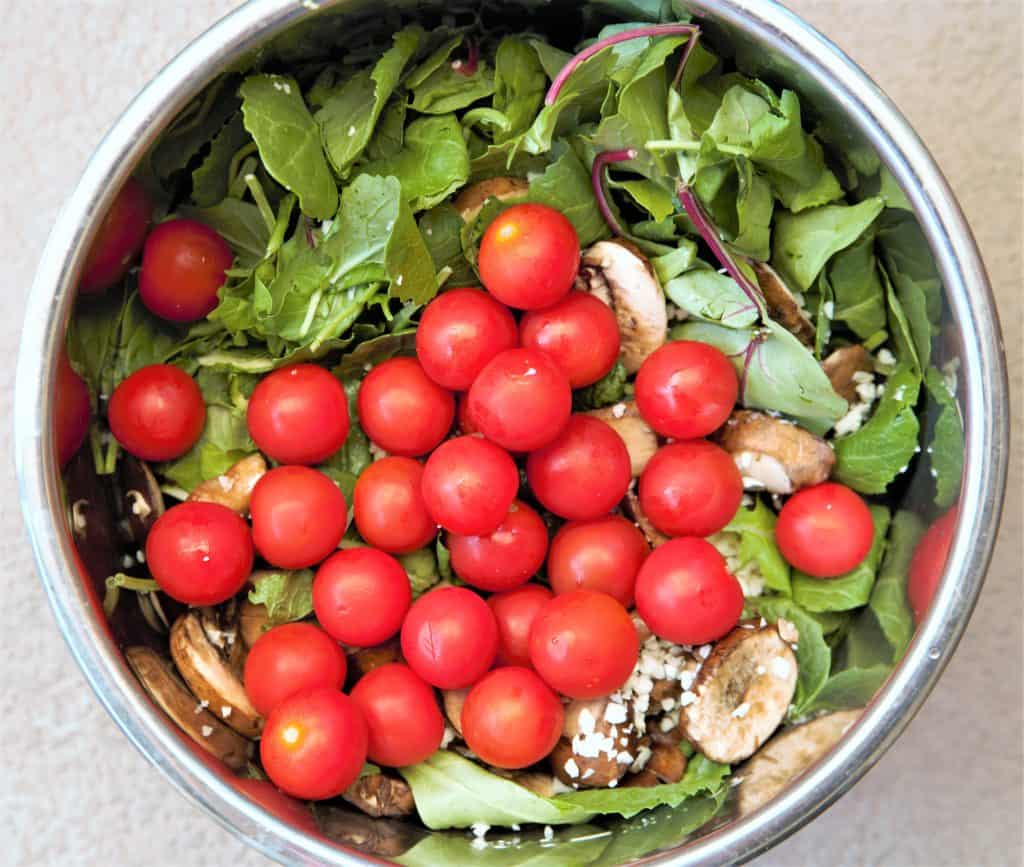 Place tomatoes on top.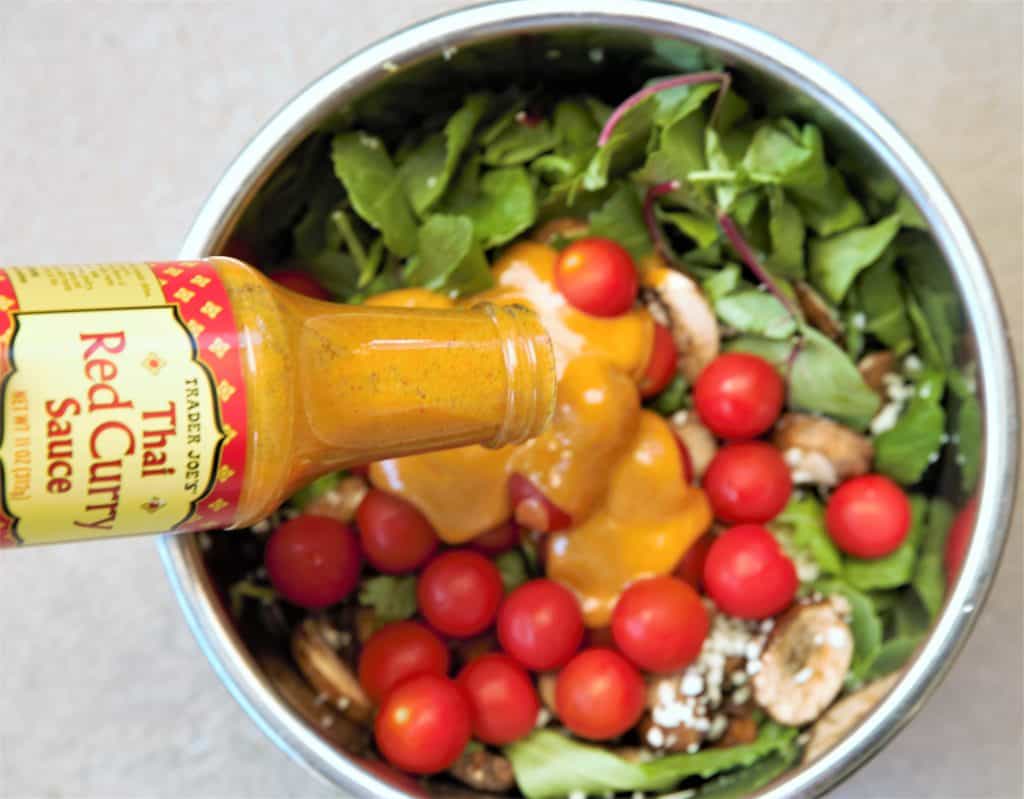 Pour curry sauce over vegetables. Do not stir.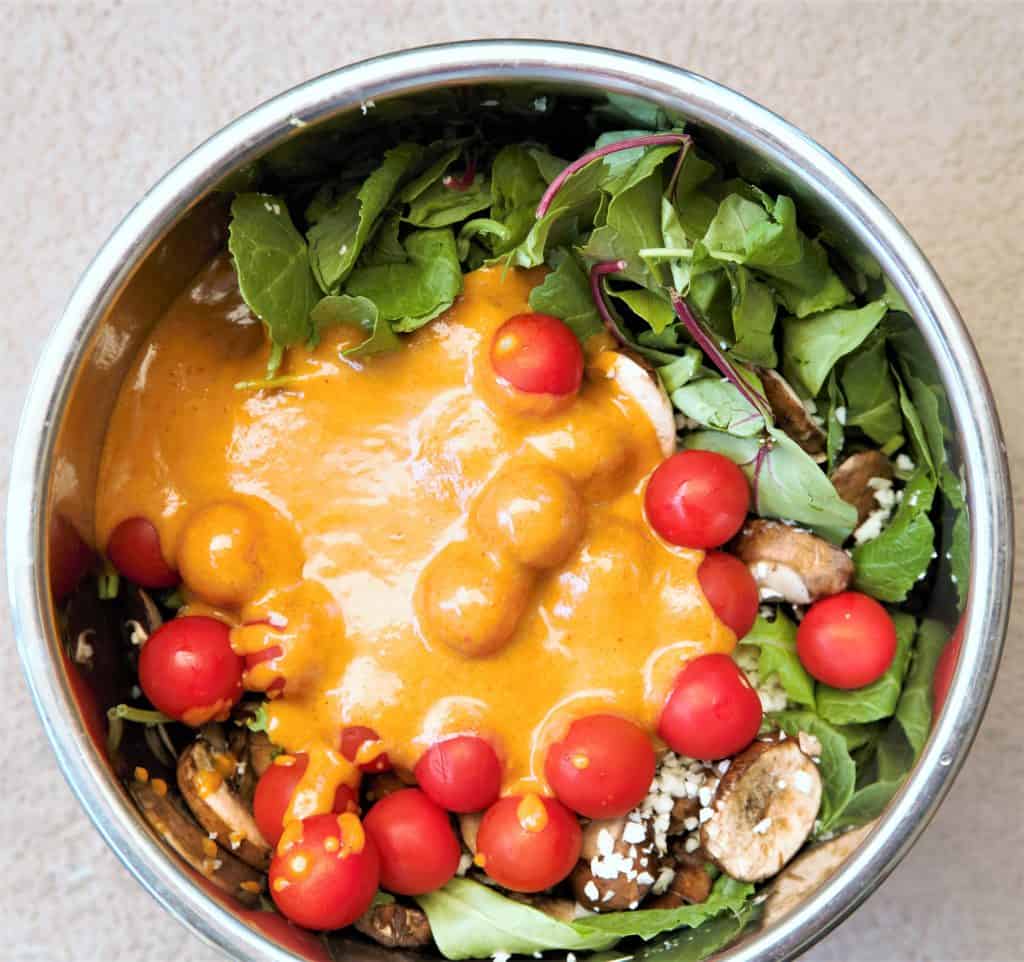 Ready to cook. Do not stir.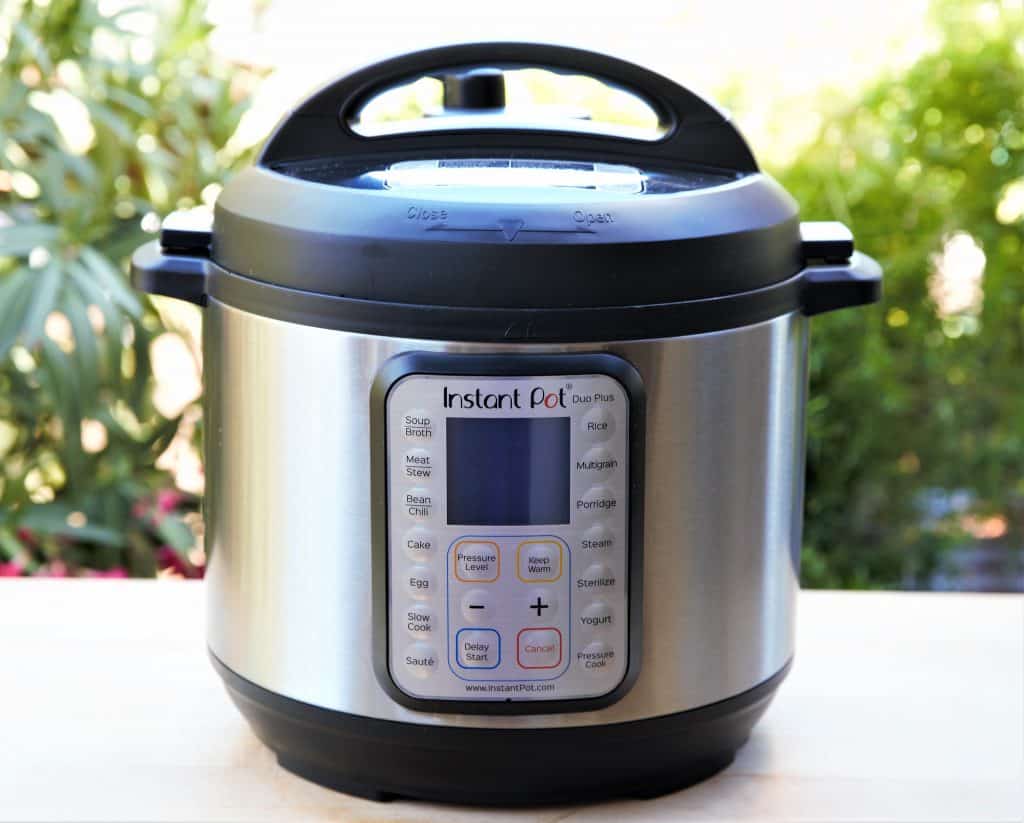 Place lid on pot and secure.  Set for 4 minutes on pressure cook setting.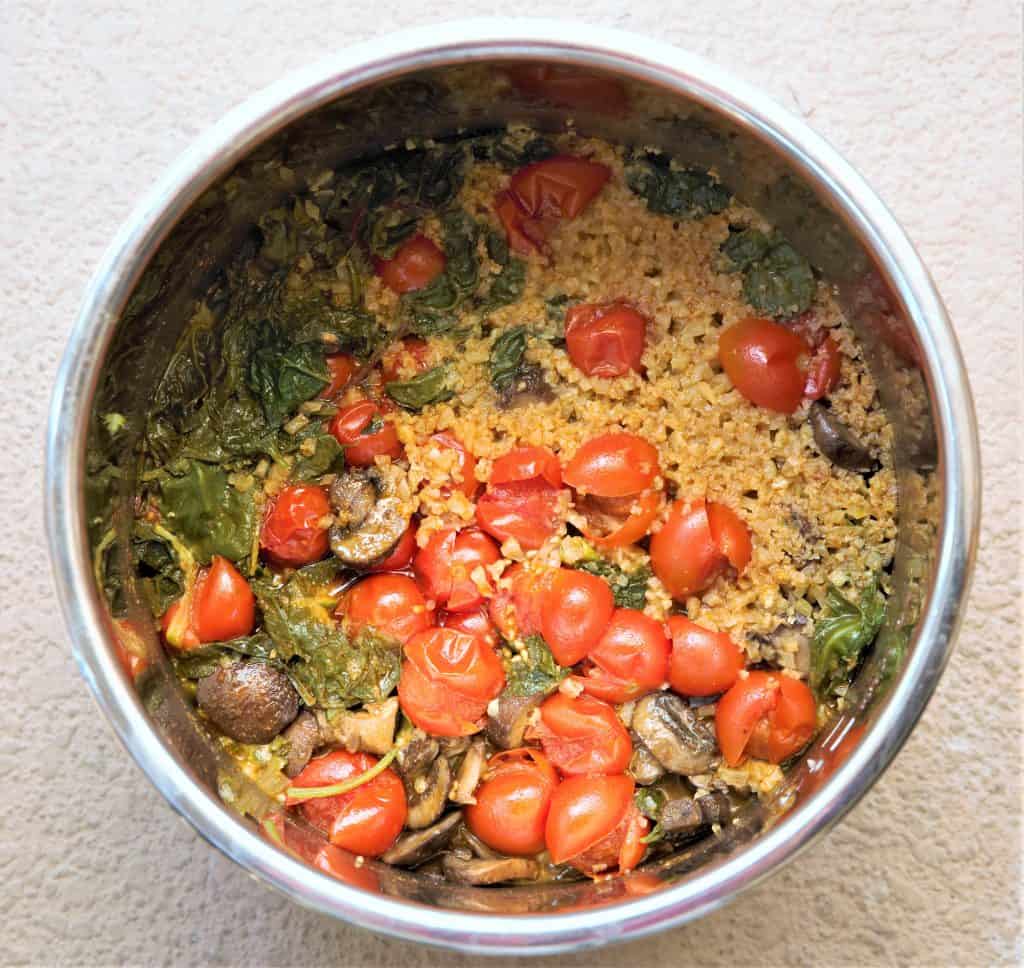 After 4 minutes of pressure cooking, release steam.  Your dish will look like this.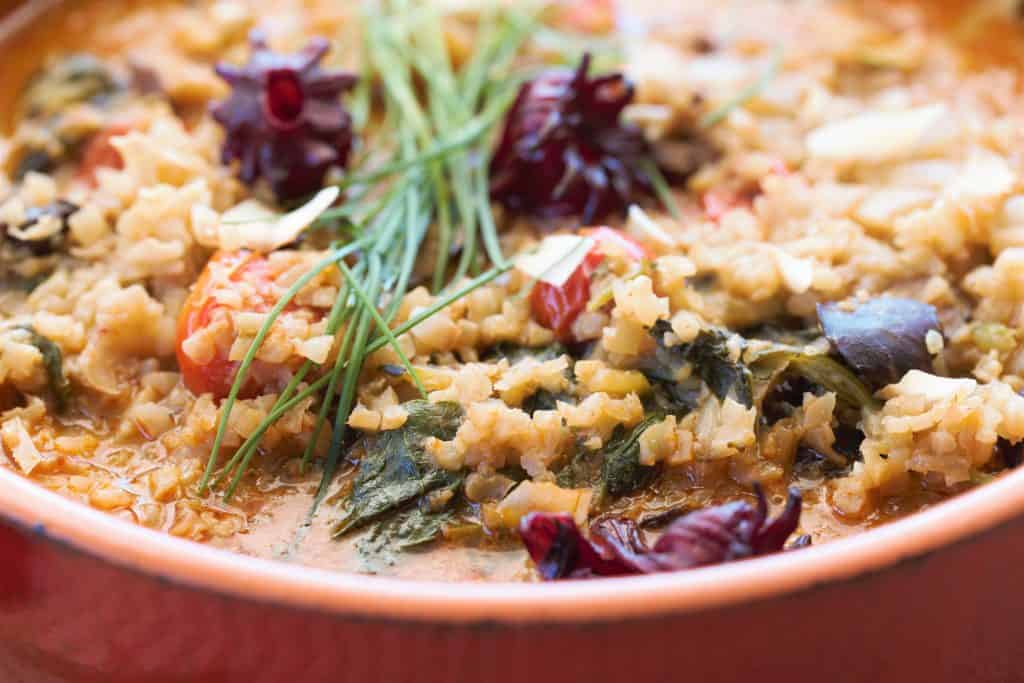 Pour soup into bowl and garnish with flowers, toasted coconut, garlic chives or green onions.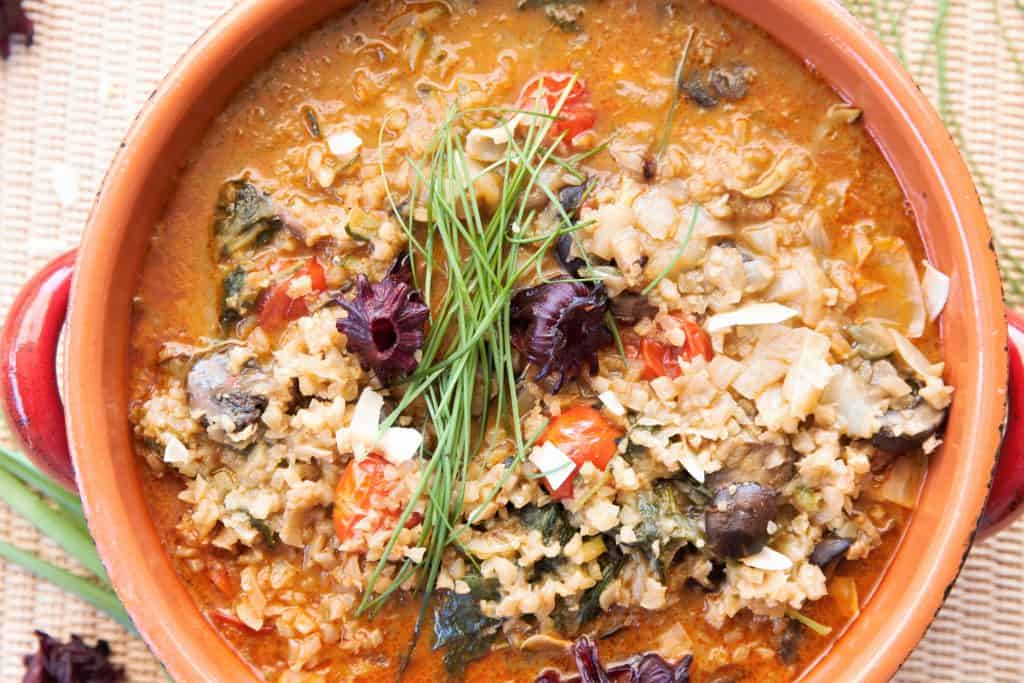 Red Curry Cauliflower Rice Vegetable Soup.  Those beautiful red flowers are dried hibiscus, which I found at Trader Joe's.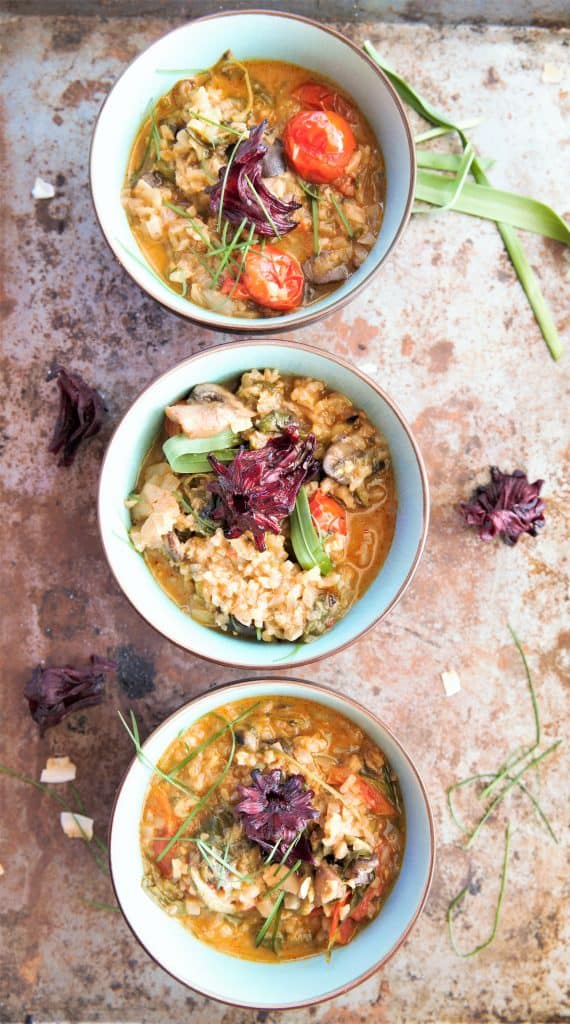 Tips For Cooking In The Instant Pot:
Always turn the vent away from cabinets and people when the steam is being released to avoid steam damage, or burns.
On occasion, if you are cooking foods without high water content, they may stick to the bottom of the pot. To avoid that, I turn my pressure cooker on before placing the inner pot on the heating element.  The Instant Pot can take up to 5-20 minutes to heat up and start the actual pressure cooking, so I let the Instant Pot heat up for 5 minutes before placing the inner pot in and securing the lid.
I add the liquid ingredients first, and add vegetables and other ingredients after.  This decreases the chances that your food will stick to the bottom.  I also ordered a second IP Inner Pot with a non-stick coating.
Red Curry Cauliflower Rice Vegetable Soup-Instant Pot
With your Instant Pot, and only 8 ingredients, you can have delicious, spicy, incredibly flavorful soup in 20 minutes! The Thai Red Curry Sauce adds just enough kick, and the Instant Pot process locks in the flavor and nutrition of the vegetables. This soup is vegan, gluten free and dairy free.

Ingredients
4

cups

minced cauliflower

4

cups

mixed greens, kale, spinach and collard greens

2

cups

sliced mushrooms

1

onion, chopped

2

cups

cherry tomatoes

3

tbsp

olive oil

1

zucchini, shredded

2

cups

vegetable broth, organic

1-½

cup

Thai Red Curry Sauce

I used Trader Joe's 11 oz. Thai Red Curry Sauce, but any brand will be fine. See notes for recipe if you prefer to make your red curry sauce from scratch.

3

tablespoon

dried hibiscus, toasted coconut, green onions and garlic chives

for garnish
Instructions
Pour olive oil into Instant Pot inner cooking pot. Without putting the lid on, set Instant Pot to saute to allow it to start warming up as you chop your vegetables.


Chop onion, shred zucchini. Add vegetable broth to Instant Pot. It is important that the liquid is on the bottom of the Instant Pot so that the vegetables don't stick as it heats up.


Add onion, zucchini, minced cauliflower, mushrooms and greens to Instant Pot. Add tomatoes on top. Pour Thai Red Curry Sauce over the top of vegetables. Do not stir.

Place lid on Instant Pot, and close vent (to right). Set your Instant Pot to cook on pressure cook for 4 minutes. (You might need to cancel the saute setting before setting it for the 4 minute pressure cook)


Carefully watch Instant Pot, and when the high pressure cooking is finished after 4 minutes, QR, quick release pressure.  Using potholders, remove inner pot from Instant Pot.  Stir soup to mix vegetables and sauce. 
Notes
 If you prefer to have homemade Thai Red Curry Sauce, try this recipe from Pinch of Yum.
Nutrition
More Recipes Like Red Curry Cauliflower Rice Vegetable Soup: