Approximately 95% of the recipes that I prepare are vegetarian, vegan, gluten free or dairy free.  In consideration of that fact, I definitely was super interested in the latest wave of plant based meat products because for some recipes, I like to have a meat substitute.
I don't know about your family, but in my family, not everyone eats the same diet.  We have meat eaters, junk food eaters, gluten free, dairy free, vegan and vegetarian.  When I am posting a recipe, I try to give options for all eating plans, so that you can feed all the people and a good meat alternative would really be helpful.
If you have eaten primarily a meat diet, there is something to the composition and texture of meat that gives the dish substance.  It is like you need something weighty to bite into.  For many soups, stews and tacos, I have created recipes with jackfruit, which accomplishes that goal somewhat, but there is a lot of buzz about alternative meat products that claim that they can also fill that role and do it better.  These products are offered everywhere, including in major fast food chains.
So, I wanted to try the latest meatless products for myself--to hear what all the press is about, and to see if these products are viable substitutes for meat.  I have 3 reasons for seeking a meat substitute:
1) health 2) environment 3)animal rights
Are Beyond Meat Products Healthier Than Meat?
According to the American Heart Association, there isn't much good news about meat.  Meat diets increase your  risk of developing heart disease and red meat is tied to some of our "most prevalent chronic diseases" like type 2 diabetes.  Processed meats like sausage, bacon, and hot dogs could also increase the risk of stomach and bowel cancers.
In researching this article, it is almost humorous how experts approach suggesting to consumers that they can start with one meatless meal a week---like it will be such a struggle that one should only try it slowly.  Yes, that is hilarious, considering that 375 million people across the world are vegetarian..it won't kill you.
But, I digress.
The reality is that  160 million Americans are overweight or obese, so it is obvious that we are not willing to sacrifice very much in order to be healthy.  If there is a meatless alternative that might be healthier, it better be good.  Like, we better not have to sacrifice taste, flavor or the pure enjoyment of eating,  just to be healthy.
Many companies have undertaken the challenge of developing a healthy alternative to meat that will satisfy even the most committed meat eater, in part because of other considerations like the environment and animals.  The jury is still out on how much healthier meatless products are than meat, but nutritionists do report that meatless meat is healthier than meat, despite being processed.  Even if the fat and calories are the same, the other benefits to the environment and animals are significant.
How Do Meatless Products Help The Environment?
Experts agree that red meat production plays a role in the climate crisis, and this has been referred to as the real "major public health risk." The World Resources Institute estimates that cutting the world's beef consumption by 70% could reduce greenhouse-gas emissions by around 35%.
As a result of  factory farming and the side effects of satisfying the American appetite for beef, the greenhouse gas emissions from livestock make up an estimated 14.5 percent of all global greenhouse gas emissions, according to the United Nations Food and Agriculture Organization.
Animal Rights
You don't have to be an avid animal rights advocate to be disturbed by the videos of meat processing plants, chicken farms and packing houses.  They range from gross to horrific, so basically,  if we can avoid killing animals, I think that would be a great thing.  In my opinion, as far as assessing advantages for meatless products, letting animals live the life they were born to live (which doesn't include being my dinner) counts for something.  I mean seriously, how great would it be if we never had to kill animals for food?
You know who will get this?  Kids.  Kids are concerned about the environment and animals, so in that sense...the children are the future.
Recipes Using Beyond Meat
I am going to prepare several traditional recipes that include meat, and substitute Beyond Meat Products.  I have chosen Beyond Meat because their protein source is pea protein isolate (and not soy) and that it is gluten free.  My first recipe is this Beyond Sausage Sandwich. *recipe here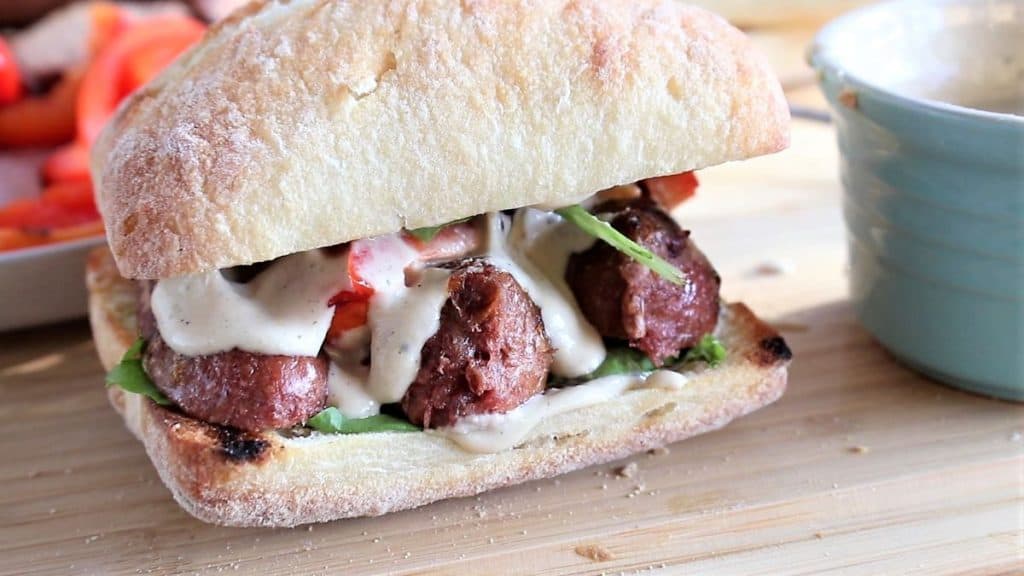 Nutritional Information
As you can see by the package, the manufacturers of Beyond Sausage advise that the product is soy and gluten free, contains 16 grams of protein,  190 calories per sausage and is 38% lower in fat than pork sausage.  This is definitely an improvement in the percentage of fat, and it is an advantage that you can substitute it for sausage and still feel satisfied.
Because it was summer, I grilled the sausage and made a sandwich--just a simple recipe, but the possibilities for creations with this sausage are endless.  I honestly really liked the sausage and so did my family.  It definitely tasted like sausage, which is the key question that all alternative products must answer.   I will buy this again, even though it does have additives that I prefer that my food not have.
Why? I still feel like these products are a positive step toward creating and maintaining meat free diet and this is especially true in households that have several different diet preferences.  It is hard to feed a vegan, vegetarian, gluten free, dairy free, meat eater and junk food eater at the same table.  Additionally, vegans need a solid source of protein, and these products definitely provide that.
I have also heard from spouses who desperately want to try to move away from meat as a primary source of protein in their households for health reasons, and are meeting resistance from other family members.  This definitely is a good stepping stone to get those stubborn meat eaters to at least give alternative meat a try.
Beyond Meat Chili
The next recipe that I tried was Beyond Meat Chili, and for that I used the Beyond Meat Beef product.
Nutritional Information
As you can see by the package, the manufacturers of Beyond Meat Beef advise that the product is gmo free, soy and gluten free, contains 20 grams of protein, 250 calories per serving and is lower in fat than beef.  I prepared it in the Instant Pot, but you can use the stove top or crock pot to make this chili.
This chili was definitely a hit.  There was absolutely no difference in the flavor and texture of the meat product, and everyone loves this chili.  As winter approaches, this is a new chili recipe that you can add to your menu.
Conclusion
In my opinion, alternative meat products that can make a dish feel and taste like it has meat in it are a success.  I think that this fact is crucial to encouraging dedicated meat eaters to try a plant based product and embrace a diet that is healthier for the body and the environment.  These products offer a compromise and hopefully, the health profile and benefits of these products will continually improve and expand.